REECE, CUSTOM BRONDE BALAYAGE BLEND, DELUXE, FULL LACE WIG
REECE, CUSTOM BRONDE BALAYAGE BLEND, DELUXE, FULL LACE WIG
The Invisible Wig is one of our most luxurious lace wigs, the knots have been bleached to perfection throughout the front section of the wig cap, to give the illusion of a human scalp. The deluxe wig is suitable for caucasian, afro-caribbean and asian women. Our invisible wig is a gorgeous lace wig available in either a straight or curly texture. This luxury lace wig is made from raw virgin hair.
Our Deluxe Invisible Wigs are made from Raw Virgin Hair the hair has not been altered by any chemical processes. With the hair being completely unprocessed and chemical free. Raw Hair is the most natural, pure, and 100% authentic virgin hair on the market today. Raw hair is 100% unprocessed; this hair literally is cut from one donor head, then washed with shampoo and conditioner.
This is a full lace wig and can be parted anywhere. Our full lace wigs have a very natural and realistic appearance. As a result our full lace wigs can be worn in a variety of hairstyles including a low or high ponytail.
More Information

| | |
| --- | --- |
| Color | All Colors |
Our wigs are for women of all races and colour.
At Mora Mode, we use only the finest quality hair. Our hair has been sourced from a single donor and kept 'cuticle correct' – meaning that all the cuticles face the same direction from root to tip. This is vital for ensuring longevity.
The Allure Range are affordable lace wigs that are perfect if your looking for an amazing natural hairline. This range of wigs come pre-plucked with semi bleached knots at the hairline. The Allure Wig is made from luxury thick and healthy remy hair. It is an affordable alternative if you like to switch up your look often. The Allure range is available in a universal lace suited to darker skin tones.
The Invisible Wig is one of our most realistic lace wigs, the knots have been bleached to perfection throughout the front section of the wig cap, to give the illusion of a human scalp. This wig is most compatible with a silk base wig. Our "Invisible" wig range is made from 100% human virgin hair and is available in a vast range of textures from curly, wavy, kinky, yaki to silky straight hair. There is also a variety of lace options to choose from as well as custom hair colours.
This range has two types of hair available to choose from; our Premium Virgin Hair which is good for yaki, kinky, afro textures or our Deluxe Raw Hair. The Deluxe Raw Hair is a thicker strand giving an overall high density appearance. It is more robust and blends well with most hair textures. Our Raw silky straight texture is of the same quality and feel as European hair. If you're a stylist and plan to perform various chemical processes on the hair then The Deluxe wig is recommended.
We have four main types of cap constructions, full lace cap, glueless cap, lace front cap and a 360 wig.
Below we have listed all the cap constructions we offer, most of our wigs are full lace cap constructions and can easily be customised by adding extra combs, an adjustable band or elastic band.
Our silk base can be added to all wig caps, we also provide three different cap sizes for you to choose from.
THE ELASTIC BAND IS ONLY APPLICABLE TO THE INVISIBLE RANGE.



LACE COLOUR GUIDE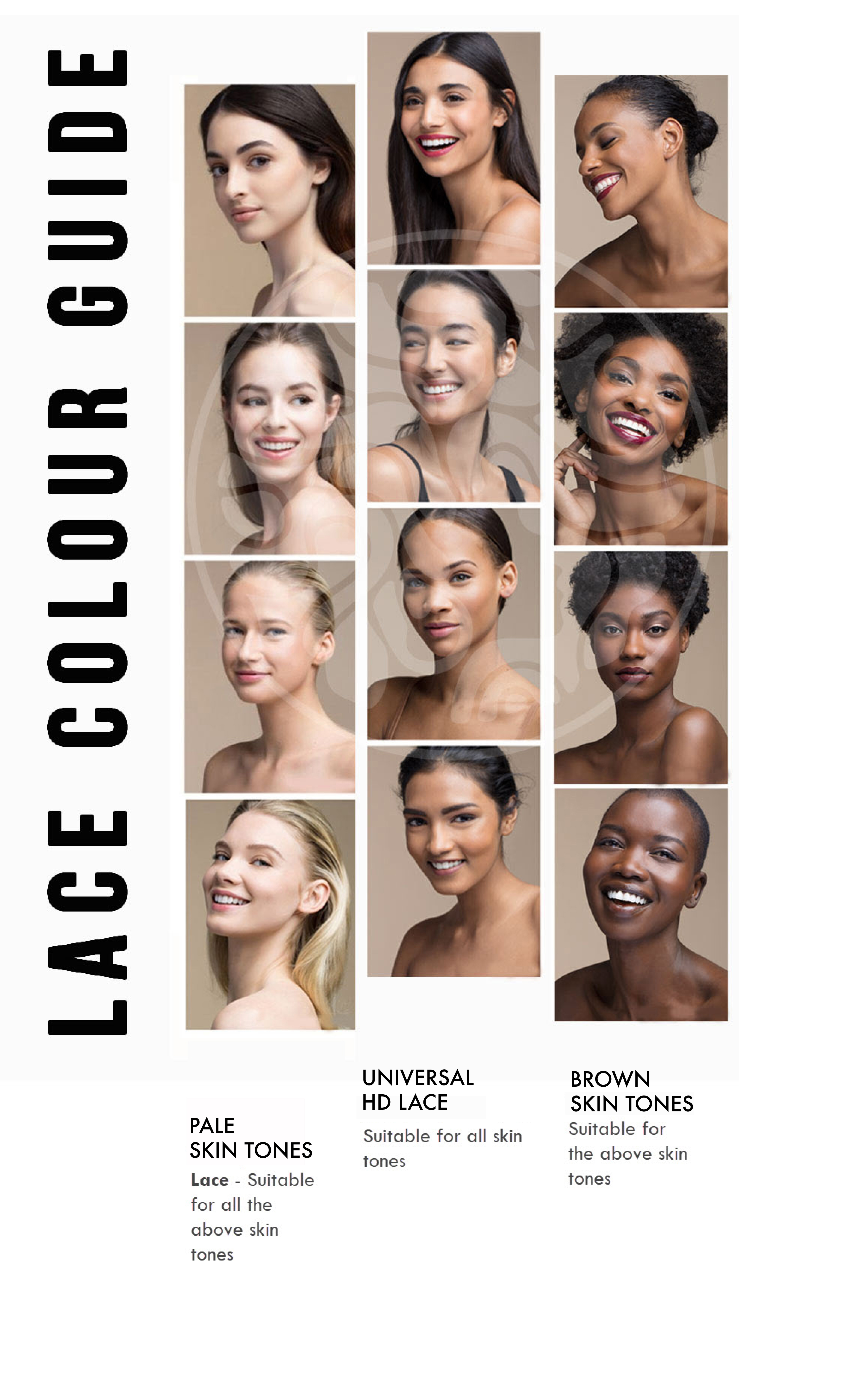 Custom Colours can take at least 14 working days.